1001 Greatest Pop Songs Of All Time - #21 - (You Drive Me) Crazy by Britney Spears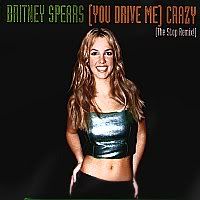 Claire: As a serious musicologist, specialising the field of Britney Spears, it's fair to say that my brain never truly accepts "Sometimes" as Spearsy's second single. Oh OFFICIALLY, it was, and if some other contributor wishes to have a stab it, all to the good, but to me, Britney ballads have always underwhelmed – there's a lot to enjoy in them (not least Sometimes rather jolly harbourside literally interpretative coy dancing) but, how can I put this, they are rather like the support act at a concert. The exciting pop thrills in Britney's early work are balanced out by a selection of America's Sweetheart ballads that are generally quite skippable (as a functional guide, tracks 6 through 10 on the first album are hard work to endure, after 5 of the best tracks in pop history, with The Beat Goes on a divisive issue). Besides sometimes has just SO much white, someone was clearly suggesting something. So for the chronological order of the generations most fantastic pop star, we skip straight to single #3, (You Drive Me) Crazy.
When I said before …Baby One More Time was the greatest song of all time, I wasn't lying, but conversely, it's (You Drive Me) Crazy (note, brackets, always a good thing in a pop title) that I play the most of any Britney song purely for enjoyment. …Baby One More Time is like a fine wine to be savoured, while (You Drive Me) Crazy is more of a TAB Cola or a Mello Yello – still fantastic, but a lot more fun. It's oft overlooked in discussions of the greatest Britney songs for just this reason - the craft in the song isn't as wonderous or amazing as in other Spearsy songs, it's probably a lot more sugary and fizzy and childlike in it's thrills, but it's probably one of the last time, at least in my opinion, it looked like a hell of a lot of carefree fun being Britney Spears.
Backed in a (for the time) rather iconic pairing with a clearly bewildered and confused Melissa Joan Hart (whose face when the song STOPS! still makes me laugh) and performing in front of a large orange sign that said CRAZY, it's the Britney video that I enjoy the most. I'm always angered by anyone (as I've said before) who finds early Britney "robotic" – she has a unique, distinct vocal style, not just on the ever popular delivery of the word "meh" and "Jum-pingggg", but in her ability to go from sweet honey vocalled innocent to possessed dervish in the chorus of one sentence (Britney's under-rated singing ability has been known to see me start arguments). I'd imagine that for Max Martin and co, this was fun to produce, a cow bell here, some faux scratching there, everything sounds like the kitchen sink of late 90s Pop production was thrown in the mix. Lyrically, it's straight and direct - …Baby One More Time was coded, and a bit murky as to it's intentions. (You Drive Me) Crazy is straight from the SAW school of lyrics: "You drive me crazy, but it feels alright" speaking nothing but universal truth about young love. Above all else, it's heart of the dancefloor stuff, in a way that …Baby One More Time never quite has been. The energy and enjoyment this song still engenders in me is always enough to make me feel about 14, which is a true and brilliant facet of great pop.
I could tell you a lot of fascinating and well researched Toby Cresswell style facts about this song (FACT! It was only released on a 12" single in the US, which hurt sales and FACT! It was a tie with the Melly J-H film Drive Me Crazy) but in simple terms, this song is important in convincing me that Britney Spears was the most vivacious, clever and wonderful pop star on the planet. Three singles, radically different, three different images, all wonderfully choreographed and iconic. She was special, she was glorious, and she was here to stay. The rest, you felt, would take care of itself…