1001 Greatest Pop Songs Of All Time - #17 - M.Y.O.B by Deborah Gibson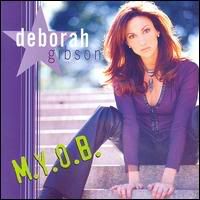 Claire: When I was growing up in the late 1980s, few pop icons had a bigger impact on me than the seemingly perfect blonde eyes and teeth stage girl bred talent of Debbie Gibson. I even had a Debbie Gibson hat with DG on it in sparkly silver letters. I would venture to say if you asked a lot of girls my age their main pop memory of 1989, Electric Youth's synth pop stylings, insanely over the top video and Debs vivacious energy would spring decisively to mind. She was a particularly unique pop icon, given that shewas a child prodigy with serious musical and song writing ability, who probably could have been a serious boring stodgy singer songwriter, but who, circa Electric Youth, embraced Pop fully and utterly, and loved every single second of it.
Deb, of course, fell quickly and decisively out of favour after that song though, and was oddly finished by 1990. That's finished in chart terms of course, not finished as an artist. She's ploughed on, through broadway plays, through mad stalkers, through appearances in Playboy, and through meddlesome fans whinging about her website over and over again. A full decade after her glory years, and newly re-christened Deborah Gibson, she stepped back into the world of proper album making with "M.Y.O.B" – rather sadly, the last 6 or so tracks on the album are a bit adult and naff, some jazz, some noodling, and some more contemporary adult ballads, not much to write home about. But on the title track, the old sparkle was right there, and Deborah, mature adult, became Debbie, teen icon, once again.
"M.Y.O.B" stood for Mind Your Own Business, and it's as superb a track as Ms Gibson has committed to record. Built initially around a chorus of chanting children gossiping in a playground, the skipping rope/hopscotch beat is sensational, fantastically bubble gum. Debs meanwhile carries the gossiping child motif into the lyrics, relaying the song as if repeating some serious goss to the gathered chanting massive. The kids, meanwhile, are having none of it, intoning to Debs, frankly, to mind her own business. So Debs winds up chanting dementedly to herself, calling and responding to her own conflicted thoughts. By the time all this has gone on, the kids are back into the goss, chanting "1-2-3-4, tell me what you know and I'll tell you some more!" which of course let's Debs get out more of her concerns about the hapless relationship of Cathy and CJ and Jackie, sitting at home thinking everything's fine. The whole song is purest, wonderful bubblegum, straight out of the late 1970s, but wrapped around a hypnotic beat and a rather angst riddled lyric.
Of course, it was a decade past her glory days, so "M.Y.O.B", despite a rather touching and long sleeve note thanking those who stuck with her, sold about 26 copies around the world. It's all a bit unfair, but if it's the last committed pop moment of a loved, but oft overlooked, figure in Pop history, it's a fitting testament to a really rather fabulous talent.
-------------------------------------------------------------------------------------
Alyson: I don't really remember being enamoured with Debbie Gibson – I think I probably had enough to worry about with Collette and her fun foam pens thankyou very much. It was only later I began to get into the Gibson canon, but I still found a lot of her work a bit earnest and adult – Lost In Your eyes? What was all that about?
However, I do absolutely love M.Y.O.B. If it had been sung by someone young and up and coming, I think it would have been a smash. I love that there's so much deeply buried in the lower levels of the song, different chants and noises to enjoy, and I love that's there's two Debs vocals going on in the song, a dark, gossipy Debs and a more thoughtful, concerned Debs. You can't go wrong with a song that is based around kids skipping rope, and chanting in a playground. To the best of my knowledge, there wasn't a film clip to it, which was insane. Surely Debs as a gossipy teacher whispering ½ truths to her kids would have been a sensation?
This is of course, fabulous, and fully endorsed by me as an entry on this list, not least because I love the use of the word POW, and because of it's sheer funky pop brilliance. Like Britney, having an adult vocal doesn't make it any less. Comfortably to me Debs best work.