1001 Greatest Pop Songs Of All Time - #20 - Don't Falter by Mint Royale featuring Lauren Laverne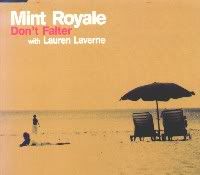 Claire: When we live on a planet where songs with the ability to uplift and delight are considered the lightweight songs, and 9 minute miserable epics the "real", you sometimes get the feeling that music was a bad idea, one that the populace couldn't handle. Why a nation would want to huddle around it's IPODs listening to James "Rhymes With" Blunt, when they could be out enjoying the sunshine and falling in youthful messy and disastrous love is such a bewildering notion, if we explained it to aliens, they'd laugh us out of existence. Bizarrely, one of the most amazing pieces of pure sunshine pop of all time isn't held up for the praise it deserves more often, but that's what I'm here for - which brings us neatly to summing up Don't Falter.
Lauren Laverne, for those who don't know, was the lead singer of the most fabulous girl band you never heard of, Kenickie (more of whom later). To cut a long story short, on the verge of hotly tipped mega stardom on the back of some amazing, hilarious power pop, Lauren got cold feet, began to hate London, went a bit mardy, and made a misery tinged epic called Get In! which saw Kenickie dropped from their label and Lauren never speaking again to her ex bandmates. Subsquently, this rather angular talent hasn't fulfilled what looked like a glorious amount of potential, and was working as a DJ at last check. I'm not sure of her current relationship status, but post Kenickie while she was home in Sunderland having a break, I know she penned this song in honour of her then boyfriend, some bearded guy out of Arab Strap (I know, I don't know either). Dance act Mint Royale picked up the beat, and a glorious, amazing collaboration was born.
Don't Falter is what musicologists would call "Sunshine Pop" - a song with no other aim or reason in life than to bounce, soundtrack young love, and celebrate summer sunshine. Oddly, Lauren sounds a little like she's struggling with the vocal, as if distracted, but it adds to the charm, since she never once overpowers the track. There is not a single wasted second in the entire song, but it's far from bombastic. I consider this a very english dance track in many ways - it's got a charm to it that's just amazing. It's love, it's summer, it's stolen kisses, and it's youthful exubarence all in one fantastic pop song. And it's full of depth too: "You must decide," intones Lauren, "to risk your heart for love to find you". Once again, there's a strutting beat wrapped in the song - it had an ability to inspire, to make you dance, and to go out and find someone to snog, right now. Summer is for the young. This, frankly, is magnificent.
Whatever Lauren Laverne did after Kenickie, whether she's feels any pangs of disappointment the spiky young gang of mates fell apart, we at least knew she was happy. No one could sing this song with the feeling she did, and not be happy. She was in love. On Don't Falter, she shares her exhilaration with the world. It would be a churlish planet that doesn't feel there's something wonderful about that.