1001 Greatest Pop Songs Of All Time - #35 - Who Do You Love Now by Riva featuring Dannii Minogue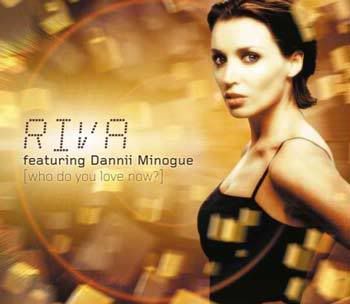 Claire: Back in 2003 (I think) when Andrew Denton was launching Enough Rope, his tedious intellectual gabfest on Australian TV, he said "It'll never have Dannii Minogue on it", hilariously pointing out the inhertent intellectualism of his interviews with interesting celebrities, and not, of course Ms Minogue, who surely had nothing to say. What a great juxtaposition that was. Without any apparent irony, Denton sat down not six weeks later to talk with that endlessly fascinating and urbane celebrity...um...Heath Ledger. He said John Howard "sucks". Boy, that sure showed us Dannii Minogue fans. Put us right in our place.
We are in our friendship group unashamed fans of Dannii Minogue without the need for a cheeky ironic wink. In fact, we prefer her to Kylie as a person. One of the things a lot of people miss with Dannii, especially in regards to her music career, is that she operates within her own dance pop genre, where she can be counted on to deliver strident dance floor anthems and memorable tunes, without the distractions of tedious genre staddling. Kylie's ridiculous forays into credibility have undermined her career, and when she needs a hit, she retreats to a form of dance-pop aimed at her gay fans, and she does it very well, but she forgets what made her successful in the first place after that, and bores everyone again. Dannii is where she is, at the heart of the dance floor, and while she's probably not got an entire album quite right (arguably), she's released some outstanding disco and dance music singles, that were they not attached to the "lesser" Minogue, would be championed in much trendier magazines. In fact, the need to somehow defend someone for the sins of releasing outstanding dance music with no other aim than to bring pleasure to people seems somehow absurd to begin with.
It's a thesis explored in my new book, but I digress.
Officially Riva featuring Dannii Minogue, and also known as Who Do You Love Now (Stringer) for reasons I never quite found out (something to do with the sample I think or the original instrumental or something), Who Do You Love Now is one of the most outstanding dance pop singles of the decade. Riva, the Dutch production DJs behind the song, provide it's thumping and subtle beats, but it's Dannii's song obviously - some people will tell you that anyone could do the job of interpretation required to be the vocalist in a dance pop song is incredibly easy but in the wrong hands the songs attitude can fail miserably. Dannii delivers a swaggering vocal, and the whole song is so deceptively simple, it's easy to dismiss the care and craft required to make the song as loud and proud as it is. It's an under-rated skill to be a dance pop vocalist (see also, Tina Cousins) and not overplay your hand and make the song cheesy. And this song never lapses for a single second into cheese - it's wonderful dance music from start to finish, even on the longer remixes. A sheer triumph.
Oh, but Heath Ledger, he's got lots to say....honestly...